Welcome to Agrinova Bio 2000
Arance rossa di Sicilia fa bene alla salute, Limone di Siracusa riduce la formazione di calcoli renali. Avocado è un frutto esotico che cresce in Sicilia.
The Company "OP AGRINOVA Bio 2000 'Soc. Coop was founded in 1988 as an agricultural cooperative of producers and agronomists in 1999 becomes OP, an association of producers: Its object marketing, dissemination and use of organic agriculture .

The companies of the 55 members (as of January 2014) are located mainly in eastern Sicily, covering an area of nearly 500 hectares: 38% of the area is planted by citrus fruit, 45% from field crops and the remaining 17% from various vegetable crops and orchards.
The cultivation techniques adopted exclusively biological, complying with the rules laid down in Regulation 834/07 and 889/08.
The products of O.P. AGRINOVA for sale are marked with a trademark called "Terraviva", the brand AIAB guarantee and also a corporate code that is used to guarantee the origin of the product.
The O.P. AGRINOVA puts its products mainly in the markets of Northern and Central Italy and in Europe; also provides regular stores and local supermarkets.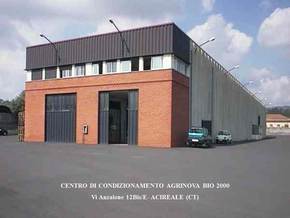 In recent years, in the center of Acireale conditioning was set up a weekly market where you can buy organic products directly from farmers.

Transport and deliveries are carried out by highly professional agents who work for domestic and foreign markets.